Back2School Giveaway - Free School Supplies for the Needy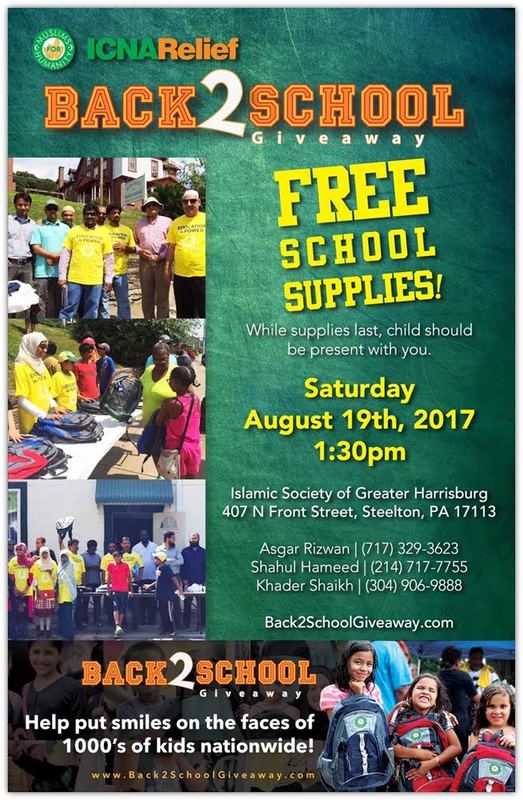 As'Salaamu Alaiykum - 
ICNA Relief's Annual Back2School Giveaway will be held on Sat, August 19th at 1:30 PM in front of ISGH complex, In Sha Allah. As part of the event, we'll be distributing Backpacks and supplies to the needy families. We need volunteers to organize and distribute backpacks this year. We sincerely thank the youth that came and helped us last year. May Allah reward them immensely. We welcome adults and kids to help with this Back to School campaign. Snacks will be served, In Sha Allah. Please help spread the word and request the potential families to make use of this event.
We are also soliciting donations/sponsors to cover the backpacks and the supplies. Any difference you can make in kids education will be appreciated. Each bag cost around $15 and if you would like to sponsor (any number of bags), kindly contact one of the brothers listed on the flyer. Checks can also be made to ICNA Relief USA.
Jazakum'Allahu Kh'airan.
Address:
Islamic Society of Greater Harrisburg
407 North Front Street
Steelton, PA 17113
US

This location has Wudu facility
Contacts:
Shahul Hameed 214-717-7755


0 RSVP(s) for this event
RSVP for this event has closed since this event was in the past.
Comments
You need to be logged-in to post your comments.
---
Reach the local Muslim community by advertising your business here while supporting this organization.
If you would like to list your business here please contact this Organization's Administration.
Our advertisement policy